Grab the new beta and have some fun.

Changes since the last release:



Decks have separate start position, you no longer start new ship on one of the waypoints.


Several waypoints near lifts have been excluded from available droid positions, making it safer to enter some decks.


Deck sections are completely separate from each other.




Droids stay in the correct deck section between visits and if teleported away.


Power off condition is now done for each section separately.


Bonus is still awarded only when the whole deck is cleared.





Some twinky stars added to background. Needs more work, especially for NTSC.


Droids aren't completely predictable under red alert any more.


Player droid damage calculation modified slighly, now higher class droids can take couple more hits under player influence.


Fixed character animation, ended up rewriting it completely.


Improved Game Over TV static.


F7/F8 selects starting ship, assumed you've cleared one or more ship.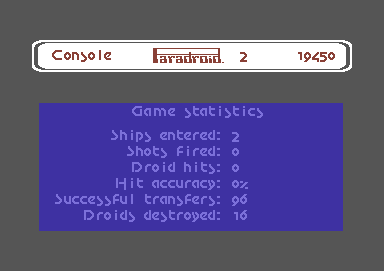 There may still be a problem with the subgame, but I completed the first ship without shooting a single shot (pacifistic takeover?) without seeing the bug so at least it isn't too frequent. It might have gone away when I added some more temporary buffer clearing.