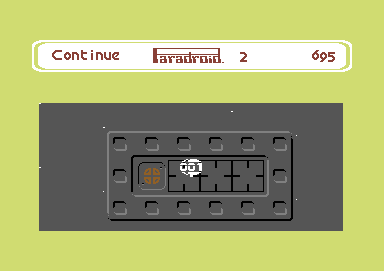 I'm not sure if I like stationary background stars (this time I nicked the idea from Uridium) as wall chars have couple of empty pixels at the edges. This means that stars will disappear before they reach the ship. This could be explained with diffraction in the micro-atmosphere around the ship, of course...

Adding stars would be quite cheap - I only need to check for underlying char being "outside_of_deck" and replace that char with animated star char. Actually I check the next one too, to be able to have two pixels wide stars. Animating the star chars is even easier:

.stx
    ldx #0
    lda #0
    sta Font+chr_STAR*8,x
    sta Font+chr_STAR*8+8,x
 
    lda vScroll
    eor #7
    tax
    stx .stx+1
    ldy hScroll
    lda bits,y
    lsr
    ora bits,y
    sta Font+chr_STAR*8,x
    lda #0
    ror
    sta Font+chr_STAR*8+8,x
First it clears previous star pixels, then calculates new Y position, stores it for the next round and plots two bits into chars.
Don't mind the regular position of stars, that's just test data. Stars are exactly 64 chars apart from each other. If this gets used then star positions get randomized every time you enter a deck.