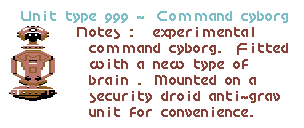 You all have noticed how 999 description text has extra space after the word "brain", haven't you? Twice, even. That's because the same string token is used for the first page of droid data, and space is needed to align the text. Three other strings are padded too, but they don't affect any other text. Instead of adding one more token costing five bytes I removed all trailing spaces and added code to do the aligning. Couple of changes later I had won one byte and nice warm feeling, knowing that now the text is perfect.
Speaking of space saving - I checked how much free memory I have, and I have 400+ more bytes than two weeks ago. If I continue like this the game doesn't use any memory at all after couple of years...
... no, not really. New TV static routine suggested by Mike is longer than the original. Oh, horror! However, it looks so much better than the original that I can accept the loss of six bytes.